What You Should Do to Get More Reviews
You already know that consumers trust ratings and reviews. A recent study by Brightlocal found that 8 out of 10 people trust online reviews as much as a personal referral. So, if you know people trust ratings and reviews, and that people make purchasing decisions based on online reviews, what are you doing to improve the quantity and quality of your reviews?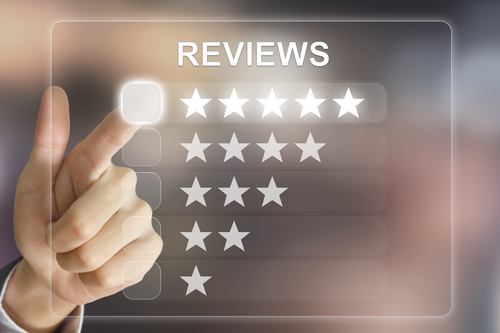 Reviews Bring Online and Offline Traffic
Positive reviews drive traffic to your brick and mortar store and to your website. Positive reviews about your business drive online sales and positive reviews about your products are a game changer.. It has been found that reviews about a certain product can increase traffic on the product's page by over 100%. This is huge!
Reviews also drive a ton of foot traffic. Just think about the way you make purchasing decisions. Do you go to the salon with a ton of 4 & 5 star reviews or do you get your haircut at the place with a couple of 3 star review? When you are taking your spouse out for a nice dinner, do risk it a the new restaurant with 2.5 stars or do you go to the restaurant rated #1 on TripAdvisor for fine dining? Reviews drive purchasing decisions, your marketing should reflect that and adjust to it.
Reviews as Constructive Criticism
Online reviews, even the bad and neutral ones, can be quite useful. Positive reviews drive traffic and increase sales while negative and neutral reviews can be used as coaching guides for employees. They are also a great way to find out what is wrong with a product or a service.
How to Get More Reviews
Getting more reviews is easier said than done but it's a good idea to start working on getting more online reviews now. It will be good for your business. If you do it right you may become to be known as the BEST based on your online reviews.
The first step is to make it possible and accessible. You can sign up on review sites that are relevant to your brand. Write an overview of your establishment – a quick introduction will do just fine. Provide all the necessary details such as the address of your shop or office, your company's telephone number, your website, and other contact details.
If your company already has online profiles in relevant review sites and you don't have a single review just yet, ask happy customers to write a review about their recent experience. While some businesses assume that customers don't like writing reviews, it is never a bad idea to ask.
7 out of 10 consumers will leave a review for a business if they're asked to
What If You're Not Getting Any Reviews?
A lack of positive or negative reviews about your business could mean that your customers are ambivalent about offering. You are not bad enough to gripe about and not good enough to heap praise upon.  Do you want to change that? Review Fire gives your customers a way to tell you what would make the business better to them.
One of customers is the highest customer rated restaurant in Dallas, TX. The get 400-700 feedback per month on Review Fire. They read everyone of them and look for ways to improve. The point being, Top Rated Business are Top Rated for a reason. Listen to your customers and start fixing every little thing that is wrong.  Your bank account will thank you.
Your business can be great, Review Fire can get you there.